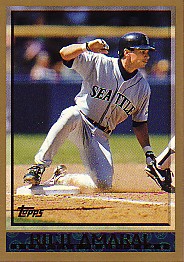 Collegiate Career
At Orange Coast College, Rich played third base and batted .372 as a freshman. While at Orange Coast in 1981, he set a school record of 61 hits in a season.
Rich accepted a baseball scholarship to UCLA in 1982, then went on to bat .327 as a sophmore. He also set a UCLA record of 65 walks in a season and was an All-Pac10 selection that same year. As a junior, he batted .341 and set an NCAA record for most double plays turned in a season. He was selected first team All-Pac10 and first team Sporting News All American as a second baseman.
Rich graduated from UCLA with a degree in Sociology and was inducted into the UCLA Baseball Hall of Fame.
Professional Career
Rich began his pro career as the second round selection in the June 1983 draft by the Chicago Cubs. His road to the Big Leagues was a long one. Rich made stops in Geneva, Winston Salem, Pittsfield, Birmingham, Vancouver, and Calgary.
His Minor League highlights include, most put outs for an infielder for the Geneva Cubs in 1983; All-Star Team selection for the 1985 Carolina League champions Winstom Salem Cubs; stole 54 bases in 59 attempts for the 1988 AA Pittsfield Cubs; 57 stolen bases and 90 runs scored for the 1989 AA Birmingham Barons (White Sox); hit .301 and led the Pacific Coast League with 39 doubles for the AAA Vancouver Canadians (White Sox) in 1990; in 1991 won the Pacific Coast League Batting Title with a .346 average and led the PCL with 53 stolen bases in 1992 for the AAA Calgary Cannons (Mariners).
Rich made his Major League debut May 27, 1991 at shortstop for the Seattle Mariners. He was the opening day second baseman in 1993 and 1994 for the Mariners. On May 17, 1993, Rich tied a Mariner club record with a 5 hit game against the Texas Rangers. He led the American League in hitting against left-handers with a .371 average and finished fourth in the Rookie of the Year voting that same year.
In 1995, Rich successfully learned to play outfield in spring camp that year (a position he had not played since little league), and played all outfield positions for the Mariners in the course of the season. For the next several years, Rich played outfield, played infield, DH, pinch hit, pinch ran, and came in as a defensive replacement - he became a jack of all trades, a manager's wildcard. In the period between 1995 and 1998 with the Seattle Mariners, Rich batted for a .285 average.
The Baltimore Orioles signed Rich to a two year deal in 1999. For the Orioles that year, Rich batted .277.
Rich finished his career in 2000 having played all positions, with the exception of pitcher and catcher, at the Major League level. He was a versatile player who could play most positions, steal a base, lay down a bunt, or hit behind the runner. He was the ultimate team player. Rich played 18 professional seasons, 10 in the Big Leagues. Rich finished his career with a respectable .276 lifetime batting average in the Major Leagues.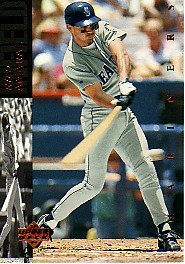 Stats
To view Rich's Big League stats, click on this link: